Divorce Costs
Average Mediation Fees
No Children, No Spousal Support, Little or No Asset/Liability Division
| | |
| --- | --- |
| Mediation (2 hours) | $640 |
| File Prep/Review | $380 |
| Drafting | $1,216 |
| Signing/Filing Fee | $400 |
| Closing letter | $160 |
Total $2,796
or $1,398 per person
Children, Child Support, No Spousal Support, Easy Asset/Liability Division
| | |
| --- | --- |
| Mediation (4 hours) | $1,280 |
| File Prep/Review | $520 |
| Drafting | $1,280 |
| Signing/Filing Fee | $400 |
| Closing letter | $224 |
Total $3,704
or $1,852 per person
Children, Child Support, Spousal Support, Standard Asset/Liability Division
| | |
| --- | --- |
| Mediation (7.5 hours) | $1,920 |
| File Prep/Review | $660 |
| Drafting | $1,344 |
| Signing/Filing Fee | $400 |
| Closing letter | $256 |
Total $4,580
or $2,290 per person
Every mediation is different. Some mediations are more, and some are less than averages shown here.
The overall cost of your divorce is generally dependent upon four criteria: how well you know your assets and liabilities, if you provide the mediator with the necessary information in a timely manner, the complexity of your asset/liability division, and if you and your partner can mutually agree how to dissolve your marriage.
If you require more time to mediate parenting time, child support, spousal support, or the asset/liability division, your divorce will be more expensive than shown here. Also, if your asset/liability division is more complex than a standard family, your divorce will be more expensive than shown here. It took years to create your situation, it will take more than a few hours to disentangle it.
Every mediation is unique and will be billed according to the Fee and Services Agreement.
Additional (potential) costs
| | |
| --- | --- |
| Domestic relations order | $750 |
| Pension appraisal | $450 |
| Business valuation | $4,000-$8,000 |
| Home appraisal | $800 |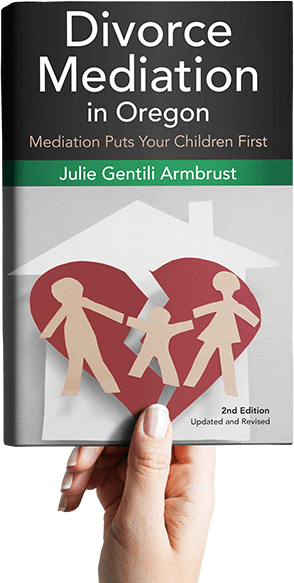 Divorce Mediation in Oregon (2nd Edition) is the perfect guide for anyone facing a divorce and the roller-coaster "year of chaos" that follows.
In Divorce Mediation in Oregon (2nd Edition), you'll be shown step-by-step methods for valuing and dividing of assets/liabilities, tips on retirement accounts, how to handle child and spousal support, and suggestions for custody and parenting time schedules for children. Julie's direct approach is a quick read that tells you what you need to know to take care of yourself and your family in this difficult time.